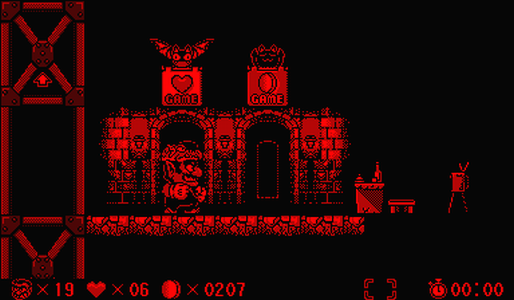 #31: Virtual Boy Wario Land
Released In: 1995
Developer: Nintendo
Publisher: Nintendo
One lazy afternoon, Wario was lying around in the Awazon river basin when he spied some small creatures entering a waterfall. Wario followed them and discovered that there was a hidden area behind the waterfall that held a big pile of treasure. The creatures tried to stop Wario from taking their treasure, but he made short work of them. Then, just as the greedy anti-hero was about to grab the treasure, the ground collapsed, sending him deep into the earth. Now it is up to you: help Wario return to the surface and grab the treasure!
Syd Lexia: Virtual Boy Wario Land used to freak the hell out of me. Your goals in this game were only vaguely spelled out for you, and since I never bothered to read the instruction booklet, I had no idea what the fuck I was supposed to do. And yet, I spent many happy hours wandering the depths of the Awazon, blasting away at weird enemies while creepy ass music played in the background. I still remember the first time I fought the genie. As far as 32-bit graphics go, he was rather scary-looking. Not only that, but he wouldn't freaking die. WHY WON'T YOU DIE, YOU STUPID RED BASTARD?
Valdronius: I bought this game!
SpamBot 5000: Webkinz pets are lovable plush pets that each come with a unique Secret Code. With it, you enter Webkinz World where you care for your virtual pet, answer trivia, earn KinzCash, and play the best games on the net!